360 degrees of high-performance sound for your listening pleasure. The JBL OnTime is both a top-end speaker system boasting halo acoustics and an alarm clock that lets you rise to the music stored on your iPhone / iPhone 3G / iPod
Key features:
Automatic dimming provides the correct brightness level in any environment
Halo acoustics that provide 360º of great sound
Evercharge topology charges you iPhone even when it's not connected to your computer
Large backlit LCD screen
A large backlit LCD
Built-in AM/FM radio and programmable alarm function
Line-in for supporting other audio products
Dimensions (HxWxD in cm): 25.4cm x 25.4cm x 22.5cm
£164.99
In stock for immediate despatch
Click here for more iPhone Docking Stations
Cygnett iPhone 3G Docking Station
Solid Bass & a full spectrum of sound. The GrooveMove system lets you snooze off and wake up to your favourite tracks. This great value system has a built-in AM/FM radio and will charge your iPhone / iPhone 3G / iPod around-the-clock.
Key features:
Wake up to your music, favourite AM/FM radio station or buzzer
Sleep mode fades your music so you can drift off in comfort
Snooze button so you can grab some extra Zzz's
Backlight with dimmer so you can adjust the brightness
Charges and syncs your iPod while it's docked
2″ speakers for full-spectrum sound and bass
Easy dock and play system
Adjustable alarm volume, plus the system recalls the last volume set
LCD Backlit screen displays time, volume and clock features
Compact and contemporary design
Full function remote control included
Compatible with most iPods (adaptors included)
Built-in AM/FM radio
Please note: When connected to your iPhone, a compatibility message will appear, then your iPhone will continue to operate as normal. This this product comes with a 12 month manufacturer's warranty
£44.99
In stock for immediate despatch
Suitable for: Apple iPhone 3G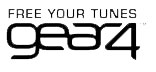 iPhone Docking Station
September 2008: This speaker system is fully compatible with the the iPhone 3G.
Introducing the new speaker system from GEAR4 - the GEAR4 DUO iPhone/iPod Speaker System with Detachable Portable Speaker. It really is one of GEAR4's most versatile speaker systems for the iPhone to date!
Never miss a beat with Gear 4 iPhone Docking Station

DUO's unique design provides a powerful sub-woofer speaker system with a detachable portable speaker for bass-rich sounds around the home or on your travels. The patented Seamless Sound Technology (SST) allows the Satellite Speaker to be effortlessly docked into the Bass Unit, where its built-in Lithium-ion battery will automatically recharge, making it permanently ready for portable use. So, whether you want a home or portable speaker, you'll never miss a beat!
The Bass Unit
Powerful sub-woofer Bass Unit - dock the Satellite Speaker for high audio fidelity
The Satellite Speaker
Detachable portable speaker system -dock to the Bass Unit for bass-rich sound or detach and take with you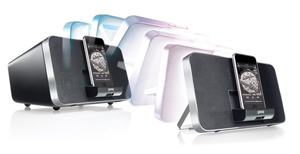 Versatility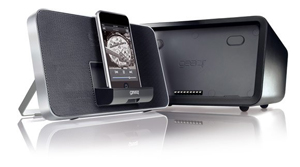 DUO is a world's first - a speaker system that offers a powerful sub-woofer with a detachable portable speaker. Its unique flexibility allows you to either dock the portable Satellite Speaker for bass-rich audio fidelity or remove it from the Bass Unit for a superbly portable speaker, perfect for taking with you wherever you go.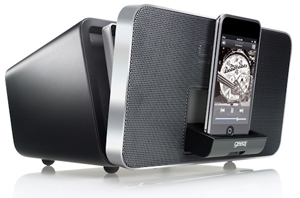 Design
DUO's unique design ensures an effortless connection between the Satellite Speaker and Bass Unit in one smooth movement. The patented Seamless Sound Technology (SST) delivers continuous playback when switching from home to portable speaker mode, ensuring you Never Miss A Beat.
Sound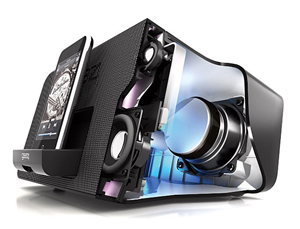 With a total output of 38 Watts, split across a 20 Watt sub-woofer plus two 6 Watt speakers and two 3 Watt tweeters in the Satellite, enjoy crystal clear, bass-rich audio, both when the Satellite Speaker is docked or separate.
Features:
38W total speaker output
18W satellite speaker output
20W sub-woofer
Strong, metal fold-out stand
Delivers true high-fidelity audio quality
Bass Unit charges Satellite Speaker
Retractable iPod dock
Power or charge Satellite Speaker via AC cable or Bass Unit
Rechargeable Lithium-ion battery
Unique patented design
Compartment for 2nd battery (doubles battery life)
£110.00
In stock for immediate despatch
Sheek and high quality, the Gear 4 Hardman Pro is a whole new level of protection for your iPhone 3G. Check out the picture.
Hard plastic case with scratch resistant liquid rubber finish for the iPhone 3G.
Features:
• Smooth clean finish
• Soft removable screen protector
• Effective shock resistance
• Cleaning cloth included
• Fold out movie stand
Click here for more iPhone 3G Cases
iPhone 3G Docking Station
Four specially engineered speakers smoothly reproduce music across the full audio spectrum
Altec pack a digital punch with this supreme iPhone 3G docking station.
Known on the audio circuit for good sound, Altec don't mess around with bass thumping 4way iPhone 3G speakers.
Live your iPhone 3G life to the fullest by pairing it with the extraordinary sound and intuitive convenience of the Altec Lansing T612 iPhone 3G Speakers.
Made to complement iPhone 3G's command of the digital world, the T612 extends your iPhone's high-end audio capabilities with beautifully transparent music reproduction. 60 Watts of power RMS (120 Watts Peak) fill the room while keeping you perfectly in touch – because with the T612 there's no need to use "Flight Mode" while you listen to music. Instead, keep the phone turned on; when a call comes in the T612 gives priority to the call by interrupting the music.
Comes with Free Plantronics bluetooth headset
Looking for iPhone 3G Speakers or an iPhone 3G Docking station? Visit www.iPhone3GAccessories.co.uk