Cygnett iPhone 3G Docking Station
Solid Bass & a full spectrum of sound. The GrooveMove system lets you snooze off and wake up to your favourite tracks. This great value system has a built-in AM/FM radio and will charge your iPhone / iPhone 3G / iPod around-the-clock.
Key features:
Wake up to your music, favourite AM/FM radio station or buzzer
Sleep mode fades your music so you can drift off in comfort
Snooze button so you can grab some extra Zzz's
Backlight with dimmer so you can adjust the brightness
Charges and syncs your iPod while it's docked
2″ speakers for full-spectrum sound and bass
Easy dock and play system
Adjustable alarm volume, plus the system recalls the last volume set
LCD Backlit screen displays time, volume and clock features
Compact and contemporary design
Full function remote control included
Compatible with most iPods (adaptors included)
Built-in AM/FM radio
Please note: When connected to your iPhone, a compatibility message will appear, then your iPhone will continue to operate as normal. This this product comes with a 12 month manufacturer's warranty
£44.99
In stock for immediate despatch
Suitable for: Apple iPhone 3G
Click here to buy
Accessories for the iPhone Nano
Rumours of the iPhone Nano have been circulating, and also that it may be announced at the forthcoming Macworld conference.
Pictures have been leaked of the iPhone Nano and iPhone Nano accessories.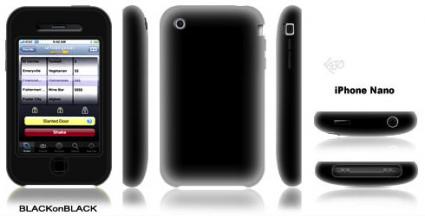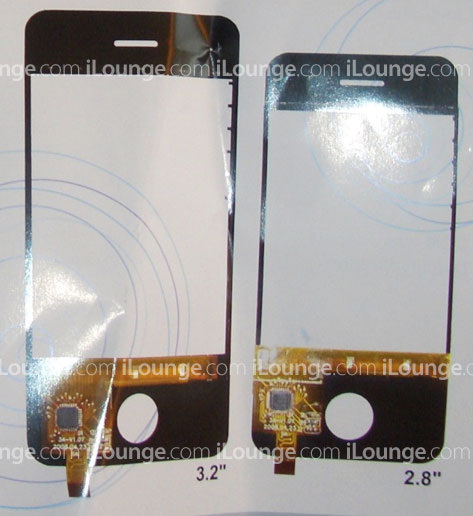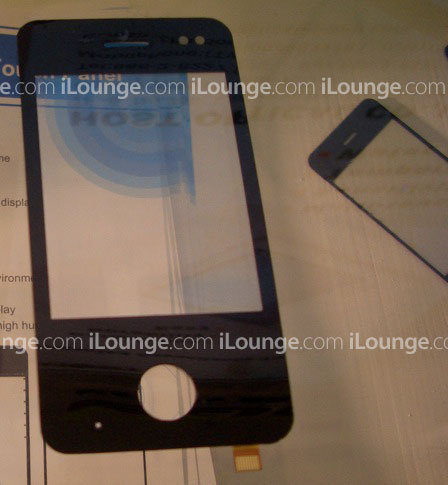 The new iPhone Nano is not expected to be 3G capable.
Click here for iPhone 3G Accessories
According to the latest report from AdMob, 42% of all requests from iPhones to Admob's partners worldwide are coming in over WiFi instead of through the networks of mobile operators. This puts the iPhone 3G in a league of its own, given that on average, AdMob is only seeing about 10-20% of all requests from Wifi capable phones actually coming in from WiFi networks. From T-Mobile's Android phone, for example, only about 10% of all requests were made on WiFi.
Read more
Target released its own iPhone application a couple of weeks ago, possibly to encourage holiday shopping online. Stepping beyond the basic web application that Walmart released, the Target application [iTunes link] offers an interesting concept — like an Urbanspoon for gift ideas.
Buy a Sim Free iPhone 3G 16GB here for £579.86
Click here to for more information
iPhone 3G Docking Station
Custom black iPhone 3G Docking Station with display. Black finish.
It has a built-in digital-synthesized FM radio tuner with ability to preset 20 radio stations. It uses a negative LCD with white backlight for display. It also supports AUX input to play and listen to other audio devices with 3.5mm output jack. 90W Peak power output
Docking Station Features
• Powerful 45WRMs / 90WPEAK output speakers with built-in woofer
• Beat-sensitive mood light (blue) with on/off button
• Plays and charges your iPhone 3G
• FM stereo radio with PLL digital tuning technology
• Built-in 10 pin ports for BluePin™
• Auxiliary line input for any audio devices with 3.5mm jack
• Blue LED power and speakerphone indicators
• Remote control
What's included with the docking station?
• 2.1ch audio system
• Remote control (battery included)
• AC adapter (UL/cUL listed)
• Dock adapters
Click here for more information
COMPATIBLE WITH:- Nano 3G iPhone Nano 2G Touch Nano 1G Classic Mini 4G/Photo Video iPod 3G iPhone 3G
Keywords: iPhone 3G Docking Station, iphone docking station, iphone 3g speakers
Leading the Mobile CRM 2.0 revolution for smartphones, Maximizer Software Inc. (TSX:MAX), a leading provider of simple, accessible customer relationship management (CRM) solutions, today announced the availability of its latest CRM software – Maximizer™ CRM 10.5.
Providing organisations a full-scale CRM solution directly on their smartphones, Maximizer is the only CRM vendor to offer the most real-time access options to customer/prospect information on multiple platforms, including BlackBerry® 8000 Series, Pearl™, Curve™ and Bold™ smartphones and now Apple® iPhones™. Enhancements in Maximizer CRM 10.5 are designed to support real time customer interactions from the office, in the field, and while on the road; ultimately driving the customer acquisition, customer service and customer retention.
"In today's economy, when companies are looking to maximize ROI, while improving communications with customers & prospects, Maximizer CRM 10.5 delivers both," said Vivek Thomas, managing director EMEA, Maximizer Software. "With MaxMobile in version 10.5, Maximizer provides organisations a solution that gives real-time insight into their customer base and prospects – enabling customer interactions that build better relationships."
Mobile CRM - Business Anytime, Anywhere
With Forrester Research reporting that 31 percent of SMBs plan to adopt and/or execute a sales force application on their mobile devices by the close of 2008, Maximizer Mobile CRM now empowers sales professionals to conduct loans business in real-time including:
• Ability to access an online document library for sales and company collateral;
• One-click access to maps and driving directions;
• Significantly increased storage of customer data via SD cards.
With BlackBerry devices continuing to lead the corporate business world, Maximizer CRM 10.5 also offers in-depth functionality for the latest BlackBerry smartphone devices, including an improved single-click BlackBerry user interface, and integration with BlackBerry address book and phone modules. Sales and service professionals can also log calls, SMS text messages and emails to client records on their BlackBerry smartphones, affording increased access and convenience in the field.
In addition to improved wireless synchronisation, Maximizer CRM 10.5 now offers seamless wireless web access from the installed mobile application to provide the best of both worlds within one click:
• Rapid, offline access to a subset of customer information stored directly on the smartphone and synchronised back to the corporate CRM system; and
• Real-time online access to the corporate CRM system to dig deeper into specific accounts or expand searches via the web browser integrated with the mobile application on the device
"With instant access to logged calls, emails and quotes, Maximizer Mobile CRM enables our mobile sales force to provide seamless customer service, and make informed, on-the-spot decisions throughout the sales cycle," said Dennis Fanning, president of Platinum Equipment Ltd., a supplier of quality semi trailers for the transportation industry. "Maximizer Software offers increased productivity to our sales force with reduced downtime, allowing us to service our customers more efficiently."
Additional Maximizer CRM 10.5 new and improved features include:
• More features supported in Web Access to support workers from anywhere including Microsoft Word integration, Excel export, action plans, email templates for personal campaigns, and faster performance
• Greater visibility and better strategic planning capabilities with advanced business intelligence and visual workflow capabilities including on-the-fly trend analysis throughout the customer lifecycle
• Extension of Web 2.0-powered tools with social networking enhancements for more powerful prospecting.
Related Resources:
New iPhone Finance Application "Ledger" Released
iPhone Finance Apps
Think Money
Macally Protective silicon case for iPhone 3G
Features
• Non-slip silicon surface
• Secure micro grip ribs
• Durable silicon material
• Full efficient port / controls accesss
• Removable scratchproof screen protector
£6.59 - UK Warehouse
Click here for more information
£6.59 Buy the Macally iPhone 3G Case at iBit Store [UK]
Tag:
Related Links:
How often are users receiving true 3G for their data transmission speed with the iPhone 3G? After all, Apple and AT&T promote the phone as being "twice as fast" as its predecessor.
Not often enough, apparently. Most users don't seem to be experiencing the near Wi-Fi-like performance that the 3G spec promises.
In informal testing, I had mixed results. My iPhone 3G has some difficulties living up to the promised speed boost, which AT&T says should "typically" range from 600 to 1400 kilobits per second on its 3G network. You also can use AT&T's EDGE service with any iPhone–that network delivers average data speeds between 75 kbps and 135 kbps, with "bursts of speed reaching 200 kbps."
(By comparison, Wi-Fi, also usable with iPhones, can deliver speeds in excess of 1500 kbps.) The iPhone 3G clearly indicates which network you're on.
Based on the outpouring of complaints on blogs, forums, and message boards across the Web–and based on my own experiences–a broad range of speeds exists, and few users report experiencing near-Wi-Fi performance. How broad a speed range you get depends on what part of the country you're in.  (Wired is trying to get a handle onthe scope of the problem worldwide with a Global iPhone 3g study. And the problems may key to the chips inside the phones, according to a report by BusinessWeek.)
Note: AT&T charges $10 a month more for the iPhone 3G's data plan than it did for the original 2G iPhone's plan.
3G vs. EDGE
Users remain enthralled with the iPhone itself–but the service woes have tarnished the experience. In a comment left at GigaOM, for example, user Len Fischer posted, "Overall, I love the device, but the 3G service could be better. I get the sense that AT&T is still tuning the 3G network, but they shouldn't be making us pay considerably more (on a percentage basis) for service that isn't much of an improvement or which remains inconsistent."
Inconsistent is the key word here. The data speeds I saw using my iPhone 3G in tests in five different U.S. metro areas–Chicago, Dallas, New York, Pittsburgh, and San Francisco–fell far short of AT&T's claims. I have yet to crack 600 kbps using my iPhone; more typically, I average 300 kbps. The purported 1400 kbps that 3G can deliver would indeed approach the Wi-Fi-like speeds you can achieve on the iPhone, as Steve Jobs promised in his Worldwide Developers' Conference keynote introducing the device in June. Wi-Fi performance on the iPhone can actually exceed 1400 kbps; I experienced 1663 kbps using my iPhone and an airport lounge's T-Mobile HotSpot, for example.
Informal Test Results
The speed difference, or lack thereof, was actually among the first things I noticed when I first began using the iPhone 3G the weekend it went on sale in July. In the New York metro area–on a stretch of Long Island that was clearly denoted as 3G capable on AT&T's coverage maps–I averaged around 200 kbps–about on a par with what I achieved using EDGE in that same area. Not once did the phone attain 400 kbps.
(For all of my tests, I used inetworktest.com to gauge bandwidth performance. This site produced similar results to other iPhone bandwidth metering sites.)
Afterwards, I discussed my experiences with AT&T; the company's network technicians said they were surprised to hear of my issues. While they wouldn't provide specifics, AT&T did say that after I left the Long Island region, the network technicians made a few tweaks to the network in that area that should have improved performance.
Here in San Francisco, I average about 325 kbps on my iPhone 3G–still a far cry from AT&T's purported "typical" 3G speeds. The good news? This performance was more than double that of EDGE performance in the same area (which I measured at 115 kbps).
As I've come to learn, my experience in San Francisco is not unlike those of people in other parts of the country. "Here in NYC I've found that 3G speed is all over the place," one commenter notes on Macworld.com. And Blogger Om Malik of GigaOM finds "the speeds are marginally better than the old EDGE network."
How Fast Is Fast?
It's reasonable to expect that your iPhone 3G's data performance will be better than its EDGE performance.  In various locations in Pittsburgh and at the Dallas-Fort Worth International Airport, for example, 3G data transfers with my iPhone took place two to three times as fast as using AT&T's EDGE network.
However, that assumes you'll pick up a 3G network at all: I haven't found one while watching baseball games at AT&T Park in San Francisco, for example. In my nearby neighborhood, I regularly see the 3G network wink in and out, swapping frequently with the EDGE network. AT&T says the neighborhood is slated for more service upgrades later this year. In Pittsburgh, too, I also frequently noticed service switching between EDGE and 3G.
Is It the Network?
How much of this performance issue is related to AT&T's network and how much can be attributed to the iPhone itself remains unclear. Some of the problems may be credited to the nascent, still maturing nature of the network (the company says it offers 3G access in 305 "major metropolitan areas" and expects to add 45 more by the end of 2008). AT&T remains ahead of fellow GSM mobile provider T-Mobile, which will officially launch its 3G network in 20 cities this October, at initial promised speeds of only 200 to 300 kbps.
The performance issues are not just about the AT&T data network, though. IPhone users report both phone reception issues with AT&T as well as with carriers in other regions, including Canada and Europe. And after Apple released its iPhone 2.01 firmware, some users reported seeing dramatic performance improvements  when loading Web pages.
My experience has been mixed: Performance has shown moderate improvement–by about 100 kbps on average–but I'm still well below the "typical" 600 kbps speed.
My biggest concern is that I have yet to experience anything remotely approaching what AT&T says its network is capable of. Network coverage varies, of course, and it's reasonable to expect the iPhone 3G's performance will vary too, depending upon what region you're in and even down to which street corner you're on or how deep into a building you are.
But that's an awful lot of variables for a service that costs $10 per month more than last year's–and that supposedly challenges Wi-Fi.
iPhone 3G: Complaints Mount About Data Service Speeds
Mac Rumours
URL: http://www.macrumors.com/iphone/
mac, macintosh, rumor, rumors, powerpc,
PPC, g3, g4, apple, steve, jobs, imac, ibook, macbook, powerbook
Recent posts:
MacRumors: Last Minute Rumors: DRM Free iTunes, Mac Mini, iPhone Tethering - Mon, 05 Jan 2009
With Macworld Expo kicking off in a matter of hours, a number of last minute rumors have appeared today.

- CNet reports that Apple has cut deals that will allow iTunes to offer copy-protection free (DRM free) songs from the largest ...
MacRumors: Macworld San Francisco 2009 Rumor Roundup - Sun, 04 Jan 2009
With Macworld San Francisco 2009 (MWSF) beginning next week, MacRumors provides this Rumor Roundup as a summary of major rumors circulating around the Mac Web before the event.

The biggest news about Macworld came early when Apple anno...
MacRumors: Apple Researching Gloves for Use with Multi-Touch Devices - Thu, 01 Jan 2009
The U.S. Patent & Trademark Office today released a patent application from Apple describing research into gloves that allow the wearer to operate electronic devices. The patent application was filed on June 28th, 2007.


The inv...
MacRumors: iPhone (Nano?), Smaller Shuffle and Cheaper MacBook in 2009? - Wed, 31 Dec 2008
Craig Berger, an analyst with Friedman, Billings, Ramsey & Co, reported today that Apple is getting ready to introduce a "lower-cost version" of the iPhone.
"Some call this device the iPhone nano," Berger wrote in a research note. " W...
MacRumors: Vaja Also Hints at iPhone Nano? - Mon, 29 Dec 2008

Relatively well-known iPhone case manufacturer Vaja has curiously added an "iPhone Nano" listing to their website. The link simply directs you to a form asking you to sign up for information about "the upcoming release of our iPhone nano c...
About Thumbshots thumbnails