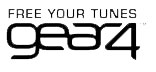 iPhone Docking Station
September 2008: This speaker system is fully compatible with the new range of iPods. It is compatible with the iPhone, but not the iPhone 3G.
Introducing the new speaker system from GEAR4 - the GEAR4 DUO iPhone/iPod Speaker System with Detachable Portable Speaker. It really is one of GEAR4's most versatile speaker systems for the iPhone to date!
Never miss a beat with Gear 4 iPhone Docking Station

DUO's unique design provides a powerful sub-woofer speaker system with a detachable portable speaker for bass-rich sounds around the home or on your travels. The patented Seamless Sound Technology (SST) allows the Satellite Speaker to be effortlessly docked into the Bass Unit, where its built-in Lithium-ion battery will automatically recharge, making it permanently ready for portable use. So, whether you want a home or portable speaker, you'll never miss a beat!
The Bass Unit
Powerful sub-woofer Bass Unit - dock the Satellite Speaker for high audio fidelity
The Satellite Speaker
Detachable portable speaker system -dock to the Bass Unit for bass-rich sound or detach and take with you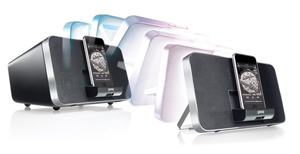 Versatility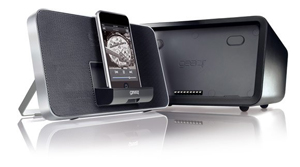 DUO is a world's first - a speaker system that offers a powerful sub-woofer with a detachable portable speaker. Its unique flexibility allows you to either dock the portable Satellite Speaker for bass-rich audio fidelity or remove it from the Bass Unit for a superbly portable speaker, perfect for taking with you wherever you go.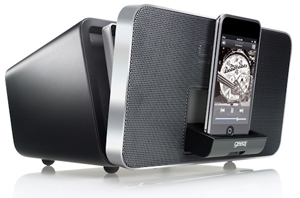 Design
DUO's unique design ensures an effortless connection between the Satellite Speaker and Bass Unit in one smooth movement. The patented Seamless Sound Technology (SST) delivers continuous playback when switching from home to portable speaker mode, ensuring you Never Miss A Beat.
Sound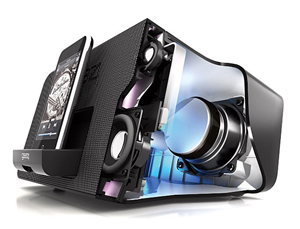 With a total output of 38 Watts, split across a 20 Watt sub-woofer plus two 6 Watt speakers and two 3 Watt tweeters in the Satellite, enjoy crystal clear, bass-rich audio, both when the Satellite Speaker is docked or separate.
Features:
38W total speaker output
18W satellite speaker output
20W sub-woofer
Strong, metal fold-out stand
Delivers true high-fidelity audio quality
Bass Unit charges Satellite Speaker
Retractable iPod dock
Power or charge Satellite Speaker via AC cable or Bass Unit
Rechargeable Lithium-ion battery
Unique patented design
Compartment for 2nd battery (doubles battery life)
Compatibility:
iPhone (NOT 3G)
iPod Touch
iPod Classic
iPod Nano 3G
iPod Nano 2G
iPod Nano 1G
iPod Video (5G)
iPod 4G (Colour)
iPod 4G
iPod Mini
It absolutely sucks to get a scratch on an iphone, so the new Invisible Sheild iPhone 3G Protector is well worth the investment.
In my opinion it is a very good idea to get a superior quality iphone 3G screen protector - because you have to remember that it is a touchscreen - and a poor quality screen protector might mean reduced performance.
This screen protector / case stands out: "ZAGG's invisibleSHIELD™ is a thin polyurethane film originally created for the military to protect the leading edge of helicopter blades."
UK: invisibleSHIELD for the iPhone 3G
US / Worldwide: invisibleSHIELD for the iPhone 3G
For those of us who are always out enjoying the nightlife including the drinks that come along with it, there is now a breathalyzer attachment for the iPhone that tells you if your in the right condition for driving if your not too drunk to give yourself the breathalyzer. This attachment may also be a fun party toy as well.
Read more